Navigating the complexities of a coastal disaster.
Coastal insurance customized to your needs.
The South Carolina coast and surrounding areas are prone to flooding and wind-related events resulting from tropical weather systems and other significant weather events that Mother Nature throws our way. Whether you are a native of the area or considering relocating to coastal South Carolina, it is important to understand these unique challenges.
Understanding flood insurance.
Flood insurance is not included on most policies. Stand-alone flood policies are available through the National Flood Insurance Program (NFIP) or private markets—our agency has access to both. Every property is located in a flood zone, and we can assist you in determining which zone your home is in. Keep in mind that being in an X zone does not mean that your house will not experience a flood loss, only that your house is less likely to experience a flood loss as compared to a house in an AE or VE zone.
Are you more prone to floods?
New Charleston County flood maps were effective January 29, 2021, and as a result, many homes have been moved to lower-risk flood zones. This does not mean you no longer need flood insurance. Remember that we are at the mercy of Mother Nature and flooding may still occur, so do not rely solely on the maps for any decision-making.
Wind coverage and wind deductibles.
Many insurance companies include wind and hail insurance on policies providing coverage on a dwelling or commercial structure, but with a higher deductible. Most companies use a percent deductible. Deductibles from 1% to 5% are common in coastal areas of South Carolina. For example, a home insured for $300,000 may have a 3% wind deductible. That equals a $9,000 deductible in the event of a wind claim.
Insurance companies use different types of wind deductibles.
Some insurance companies use a wind deductible, applying to any type of wind claim. Others use a named storm deductible, applying to any named tropical storm or hurricane (not winter storms). And some use a hurricane deductible, applying only to a hurricane. To make matters a little more complicated, some companies apply the wind deductibles separately to building and contents, while others just have the deductible applying to the building.
How coverage pertains to hurricanes.
The coast of South Carolina is exposed to Atlantic hurricanes and, in areas on or near the beaches, some insurance companies are not willing to insure structures against the peril of wind or hail. Wind and hail insurance may be purchased via a separate policy through either a private market or the South Carolina Wind & Hail Underwriting Association—our agency has access to both.
Wind mitigation.
Wind mitigation is the process of reducing the likelihood of your home suffering damage during windstorms. To help withstand high winds, homeowners and builders may add features to the home, some of which may qualify for a discount or credit on the insurance policy.
Some of the most common wind mitigation features that may result in savings include:
Opening Protection—This is the protection of windows and glass doors from flying debris. You may qualify for a credit on your insurance if the openings on your home are fully protected by impact-resistant coverings such as storm shutters, storm windows (impact-resistant glass), and storm doors.
Secondary Water Resistance Barrier—This is an additional layer of protection between the shingles and the plywood roof deck; its purpose is to prevent water intrusion if the shingles are blown off or damaged.
Roof Type—There are many roof types or styles on a home, but the two most common are hip and gable roofs. Homes built with hip roofs are a lower risk for wind damage.
Roof-Wall Connection—Commonly called hurricane straps or clips, roof-to-wall connections attach the load-bearing walls to the roof structure and are used to resist the upward force that strong winds may exert on the roof.
Should you require any further information on coastal insurance coverage, please contact our office.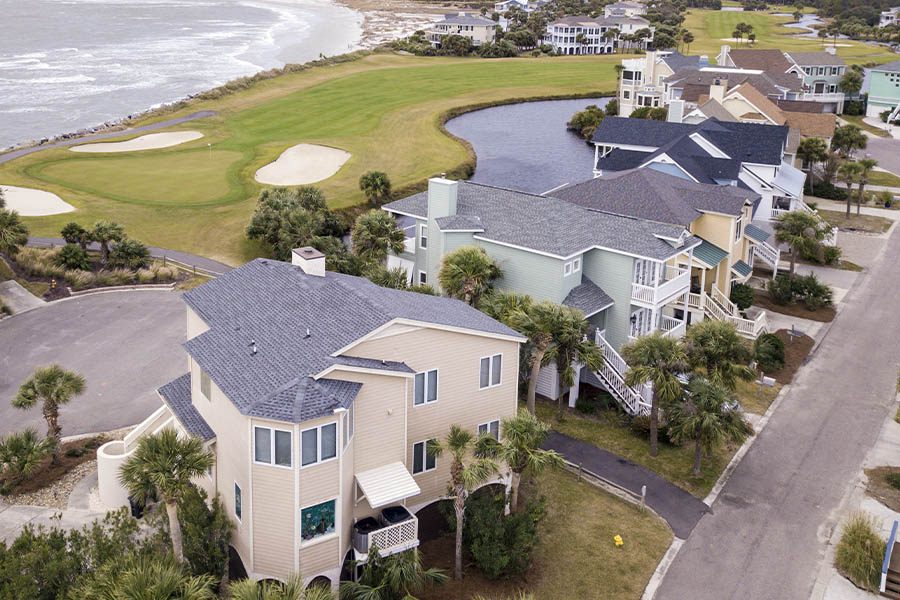 Get Started Today
As an independent agency, we are here to help you find the right Coastal Insurance coverage.
Get a Quote
  Coastal Insurance Quote Request
As an independent agency, we are here to help you find the right coverage.
Get a Quote
It only takes a minute to get started.
Fill out the form, we'll be in touch.

Review options with an agent.

Get the coverage you need.
Would you rather discuss this in person? Get in touch with an agent today!